Bressan Pignol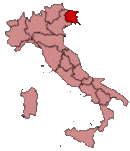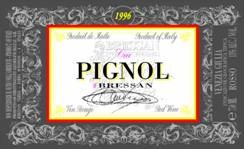 Region: Venezia Giulia IGT, Farra d'Isonzo (GO), Fruili, Italy.

Description: Vino di lusso!" "Luxury Wine!" that is the only appropriate definition for this wine, the wine chosen by Teatro La Fenice in Venice.

Made from 100% Pignolo grapes this wine is as difficult for even the best producers to made as it pay you off with its rare to find elegance.

"A rich ruby-red colored wine offering a delicate, fruity taste, and mysteriously soft on the palate.

Nose: is a melange of stewed plums, spice, roasted meat, black walnuts, and sweet herbs.

Taste:The wine has a balanced, satiny texture, and great complexity with fig jam and dried fruit flavors.

The finish echoes on beautifully with real finesse. This is a world-class and exotic wine.

Bressan- Fulvio Bressan

The Bressan Mastri Vinai winery, located within the town of Mariano del Friuli, Gorizia province, Italy, dates back to the 1600's.
Their vineyards are strategically located in the landscape of Farra d' Isonzo. Here, the slopes of the Collio region fade gently and open up onto the Isonzo river valley, in a slice of land protected to the north by the Julian Alps and open to the hot winds of the Adriatic Sea from the south, where a rare mixture of natural elements (geographic, geological and climatic) have created a unique and inimitable"terroir."


Over ten generations of Bressan family dedication has gone into producing wines exclusively of grapes grown from the family's 25 hectares of vineyard.